FAQ & RULES
Firstly, please understand that this forum is not associated with Cscope, or affiliated with Cscope in any way. It is purely a forum set up for fans of Cscope Metal detectors, and for people with questions about Cscope Metal detectors.
We want this forum to be as laid back as possible, but will not allow ANY of the following rules to be broken. Metal Detecting is getting enough bad press as it is at the moment, and we need to adhering to the positive ideas concerning Metal Detecting, together.
These are the rules of this forum. Please follow them.
Illegal Detecting.
We do not support illegal Metal Detecting in any way, shape or form. Any discussion on the positive promotion of Nighthawking, or any other form of illegal detecting will be deleted, and the member, banned.
ISM's
We do not condone racism, sexism, or any other negative ISM's on this forum. Posts will be deleted, and members banned. Aggression Any aggressive posts, be they directed at other members, moderators, or Joe Bloggs down the road will be deleted, and the member banned.
Please adhere to these rules, and treat other members with respect.

So after my beach challenge break, I have come back to a brilliant hunt.  One junk ring, two silver rings, one silver bracelet, 12 lead weights (the most I have ever got) and £4.98 in cash.  Pushing me towards the overall goal slightly.
I'm now 100% convinced that the reason for this, is because I was hitting the low tide mark really really hard, as mentioned in
https://www.youtube.com/watch?v=PWIaH9miBVo
 Either that, or it was because of the big storm we had here a few weeks ago.  Either way, it was a bounty haul.  Alternatively, it could be because of the 'super moon' we had yesterday.  I've heard rumour that a full moon like this can affect the conductivity of metals.  No idea if that is true, though!
Oh, and I was only there for two hours!  Giving up just as it got dark.  As you can imagine, I'm desperate to get down there again...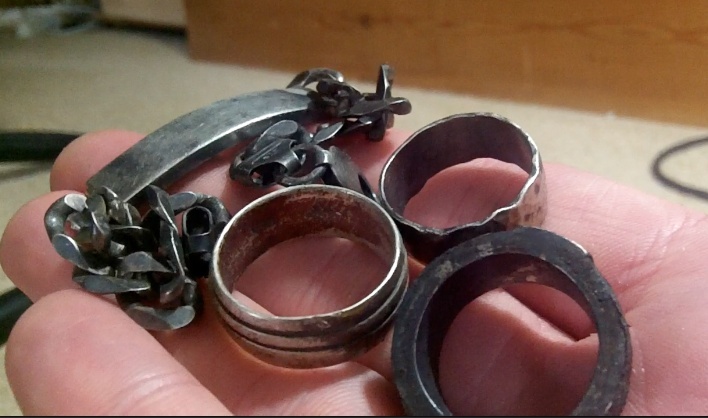 Great haul bleeps 

  I have been using my CS4PI for around 2 months now, mainly on the south west coast of england I have had massive amounts of coins and the odd bits of bling on those far out tide marks and really deep going down 12+inches, I love this machine it beats any of the inland detectors i have tryed to use on the beach over the years  




Posts

: 4


Points

: 5


Reputation

: 1


Join date

: 2014-08-15



nice one mate , i love your vids . but im jealous lol if i had found that stuff i would have piss my pants lol



Posts

: 89


Points

: 130


Reputation

: 11


Join date

: 2014-06-15



The gravitational pull of the moon when its full makes the tide higher maybe it pulled more finds in



Posts

: 10


Points

: 14


Reputation

: 0


Join date

: 2014-08-27




---
Permissions in this forum:
You
cannot
reply to topics in this forum